If you're responsible for the operation of a retail store, then you'll already know about the real threat that shoplifting has on a business. If you lose stock, you lose money – it's quite simple. Despite our best intentions, it isn't possible to keep an eye on everyone all of the time, which is why security tags are a popular security solution for retailers to protect their valuable stock. As such, Tagmax are proud to present the very latest in retail tagging technology -Scorpion, a retail security tagging system with a real sting in the tail.
The Scorpion Tag From Tagmax
If your existing security tagging systems suffer from poor performance due to interference or environmental issues, then your tagged products are more likely to be taken through the door, resulting in a continued loss of profit – and once your store gets a reputation as easy to steal from, these losses could continue to rise. Not so with Scorpion.
Unlike some older types of tags, Scorpion tags are able to work in conjunction with any existing pedestal, underfloor or loop systems that you may already have, across all frequency types. The wireless receiver of the system is able to sense signals given out by the Scorpion tag up to 20 metres away. Quite simply, they offer a more robust tagging solution that will better protect your stock from being stolen.
Tagmax's new Scorpion tag is available in 3 different types:
Lanyard
Designed to protect merchandise that you wouldn't want to place a pin through, a lanyard is connected to a tag, which will set off an alarm at the point of the store's exit, when taken through a field of monitoring. Inside of the connection pin, a strong locking mechanism is present which secures the lanyard in a very strong loop. What's more, if the lanyard gets cut, or the cable is unscrewed, the transmitter will still activate, offering additional protection. With the lanyard cable able to be replaced over time, this system offers a long-term cost-effective security solution for merchandise tagging.
Pin
Used mainly on clothing products, pin tags are able to be placed on or inside any soft material products, such as clothing. The classic shoplifting method of clothing sees them taken into changing rooms, the tag removed/tampered with and then simply taken out of the store – not so with Tagmax's Scorpion. If the tag is separated from the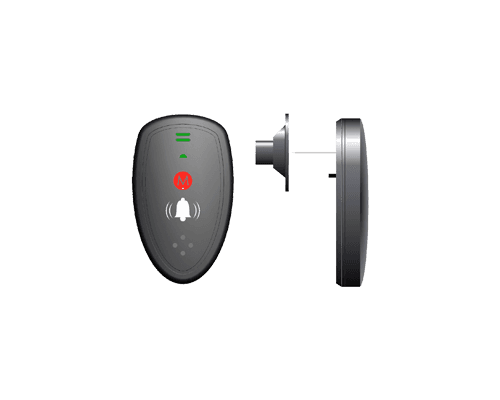 pin, the device will immediately sound an alarm, offering secondary protection if a potential shoplifter decides to remove the tag in-store.
Microsensor
A more versatile type of tag, microsensors are similar in design to a pin; just without the actual pin. It can be attached to a wider range of products and due to it being fitted with a microsensor, it will sound the secondary alarm if it's ever removed or tampered with, if not deactivated first.
A Unique Deactivator
The unfortunate aspect of many older types of security tags is that the devices that are able to deactivate their operation are available for sale over the internet, which shoplifters take advantage of. However, the pocket-sized deactivator of Tagmax's Scorpion tags are unique in that they aren't available for sale elsewhere and there is also an option for retailers to possess a unique code that only the tags present in a particular store respond to. This will make it somewhat easier to ensure that all tags that are deactivated, will be done so at the point of purchase and nowhere else.
The Benefits of a Scorpion Tag
Running a retail operation is already busy work as it is, so you would want you and your staff to be able to concentrate on going about their jobs without constantly having to look out for occurrences of shoplifting. With a Scorpion tag providing the ultimate theft-identifying solution, you can work safe in the knowledge that you will be alerted to any thefts from the store. In our experience of retailing tagging and pedestal systems, many of our clients find that once a security solution is installed, the in-store atmosphere for both customers and staff improves, which can only be a positive for the business.
Here are the other benefits that the Scorpion tag provides:
Cost effectiveness
If you think about the amount of money that a modern tagging solution such as the Scorpion will save you, the initial outlay will quickly be recovered, leaving you to garner the profits that you should be expecting, if wasn't for the threat of shoplifting.
Easy to use
A great benefit of more modern EAS tags, such as the Scorpion, is that they are simple to attach and remove with a deactivator. Their robustness ensures that they won't be pulled off, removed by simple hand tools or damaged, rendering them unusable and thus liable to be taken through a monitoring field without setting off an alarm.
Reliability
Due to the Scorpion being made from durable materials and constructed to allow for a better transference of a signal, there isn't a more reliable tagging solution out there. Quite simply, by ensuring that your products are tagged with the best security tags available, you can be rest assured that your business has taken all the necessary steps to protect itself and can look forward to achieving its aims without worrying about the spectre of shoplifting.
learn more about a security solution for your store
Get in touch with us:
0800 044 3160
07770 870 875
sales@tagmax.com
Scorpion™ from Tagmax – Protecting Your Store.
Here at Tagmax, we have well over 2 decades of experience in providing the latest in security systems to a wide range of retailers; from the small, start-up firms to the largest stores on the high street. Due to the changing nature of technology, we endeavour to improve our product lines and the introduction of a high-quality tag alarm system such as the Scorpion shows our commitment to the cause. So whatever environment you may operate in, you can be rest assured that with Tagmax, you can run your business safe in the knowledge that it will be protected.

If you would like more information on our range of tagging services or any of our other retail security systems, please don't hesitate to call our customer support team on 0800 044 3160 or 07770 870 875 or e-mail at sales@tagmax.co.uk.

Or please download the scorpion.pdf here